Opened by Lance Stackhouse in 1986, The K-9 Clinic is a locally owned and operated facility. Located on 10 beautiful acres in Corralitos, California, The K-9 Clinic has grown from a class held in a local parking lot to the largest facility in the area. The K-9 Clinic offers quality dog training to dogs of all sizes and breeds.
Lance Stackhouse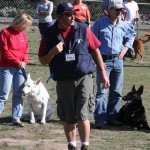 With over 13 years of experience as a K-9 Officer for the Watsonville Police Department, Lance has developed and utilized dog training skills for a variety of situations. He has successfully bred, trained and worked three police dogs. His goal is to successfully teach you to train your dog and have fun doing it!
Training Philosophy
At The K-9 Clinic, we believe that every dog, regardless of size or breed, is motivated to learn in many different ways. Reward based training is often the most effective and ideal way to train. Dogs that are willful or stubborn may need compulsion training.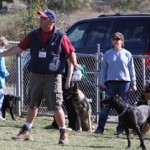 We support the use of prong collars. Trainers who oppose a prong collar probably train dogs that are not very willful or stubborn. Many trainers are uneducated on the practices and proper use of the prong collar. We do not believe in choke collars for effective dog training.
E-Collars should only be used in extreme cases of disobedience and should never be used when there is aggression towards other animals or people. An E-Collar is a last resort training effort and never a foundational or fundamental tool for proper training. In the area of compulsion, a good trainer should always start with the lesser and build up to the greater.
We believe that the focus of training should be to break the will of the dog not the spirit!