Private lessons and Off-Site Classes are offered by the K-9 Clinic. Both are great ways to increase building handler control while practicing obedience in a new setting.
Private Lessons or Evaluations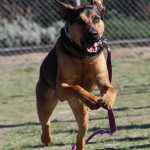 Private lessons are a great way to get individualized attention and target problem areas such as recall issues, obsessive barking, people or dog aggression and determining what level of obedience class you should take. Lance Stackhouse has an extensive background in evaluating dogs with aggressive behavior towards both animals and people. He is able to evaluate the dog and give his professional opinion regarding what type of behavior modification program would be conducive to correct the negative behavior and instill good social skills.

Beach & Dog Park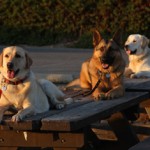 Offering real-world obedience training with major distractions, group off-site classes are held year-round. Classes are taught at locations, such as Aptos Dog Park, Scotts Valley Dog Park and La Selva Beach. To attend group off-site classes, clients must have completed the Basic Obedience class or have been evaluated by a K-9 Clinic trainer.
Locations include: Rio Del Mar Beach, La Selva Beach, Aptos Dog Park and Scotts Valley Dog Park. Please check our calendar for a complete schedule of classes and locations.